I've made additional improvements to color reduction in Animal Xing Designer.
Original is left as Type A, and added Type B.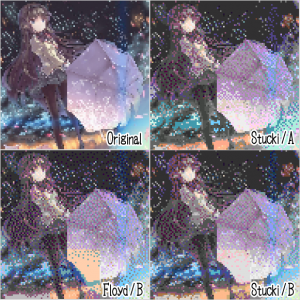 Slower, but better color optimization. Left top is original image, right top is algorithm I've made adjustment day ago. Color at lower right and background color behind legs are lost in detail. In bottom 2 image, which I've made improvement this time, you can see better color detail.
Unlike normal color reduction, hard thing about color reduction in Animal Crossing is that we have to pick up 15 colors from limited color palette, and do optimization.
This post is also available in: Japanese