Tutorial videos under work.
I design UI for my app to make it easy for myself, but unfortunately this seems to be unfriendly to other people.
Animal Xing Designer tool for Android is also such app, good functionality but hard to understand UI. I don't think I can improve UI that much by myself, and I also don't have power to redesign UI, I'll leave a instruction guide.
When you launch app, following screen will be shown.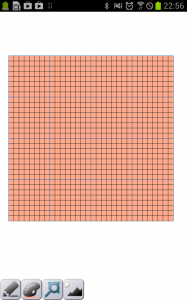 Middle is grid panel for editing design, and left lower corner shown buttons for functions.
Buttons from left,
Current selected tool / Call tool menu

Show / hide color palette, current selected color (bar at bottom of button)
View adjustment
Show / hide preview
Press pen button at left, menu button will pop up.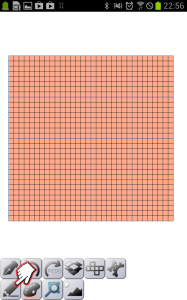 Menu button, from left,
Switch editing tool
Undo
Redo
Operation menu
Panel configuration
App preference
Press switch editing tool button at left to show tools.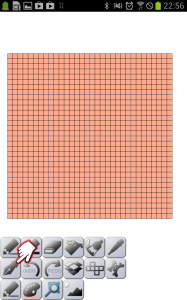 You can switch tool from here
Pen

Large pen
Eraser
Fill color
Erase panel with color
Color picker
Pressing palette button will show color palette.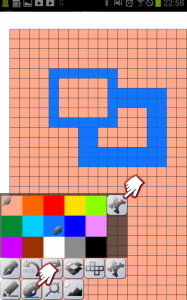 Tapping color will change selected color. Color with leaf at lower right corner is color to draw with pen or fill, color with leaf at left top corner is color used for eraser. You can change eraser color by selecting eraser and tapping color palette.
Press button at right top side of color palette to change colors in palette.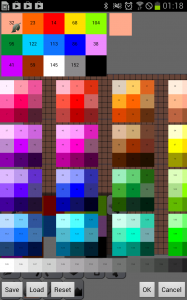 15 colors can be used at once. If you want to use different color, you have to change one of 15 colors.
Press "Load" button at bottom for easily changing color palette with preset value.
Magnifier button will switch view / edit mode.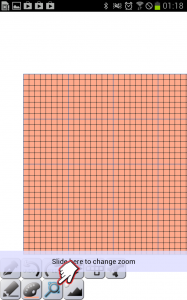 In view mode, you can drag view are or use 2 fingers to zoom in/out, or slide finger at zoom bar.
Press preview button to pop up preview window for easy check whole image.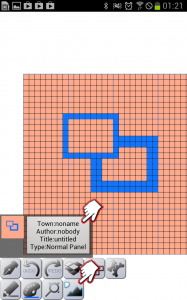 Image size of preview can be changed from preference.
At right side of preview, you can see author, title and other info. Press to bring up name editing window.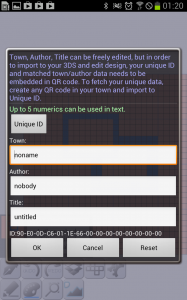 You can freely edit names, but if you want to redesign inside game, town, author and unique ID must match with one in your game.
Unique ID can be imported from QR code you created from your game. Press Unique ID button.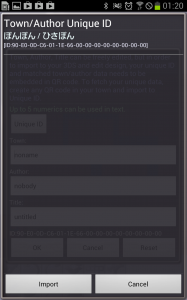 This screen shows list of imported town/author/unique ID info. Press Import button to launch camera and fetch info from your QR code. After importing, select item and press Use ID button.
If you don't need to redesign inside game, you can freely edit names.
Pressing package button will bring up operation menus.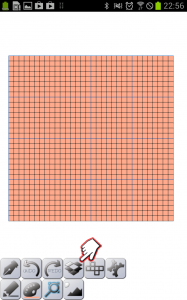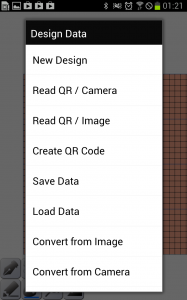 You can start new design, read / write QR code, and convert from image from here.
Press create QR code to show QR codes you can read from sawing machine at able sisters in your 3DS game.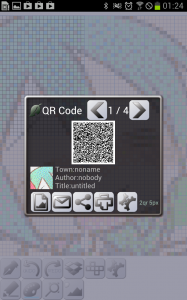 If more than one QR code available, you can switch by pressing arrow button at right top side.
Tap QR code to show in larger image.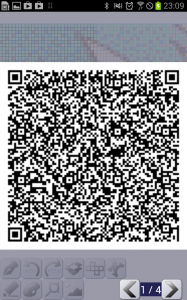 You can easily create design by importing from image file, camera, or from Web. After selecting image, adjustment screen will be shown.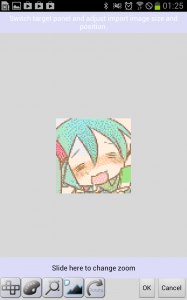 This might not work correctly depending on your image file selecting / camera app.
You can adjust image position and size. This screen does not support 2 finger gesture, so adjust size by sliding finger at zoom bar.
Preview icon switches real-time color optimization.
Press OK to import.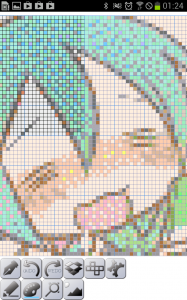 Only for normal panel type, you can use multiple paneled design.
Press panel button.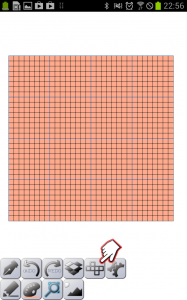 Drag Leaf button (Panel) to add/remove panels and adjust position.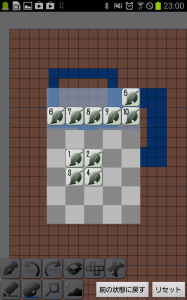 Since editing can be done for one panel at a time, you have to tap panel to switch editing target.
This post is also available in: Japanese